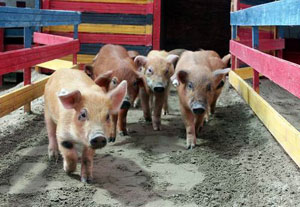 Pigs can't fly
,
but they can run
, swim and dive, as proven by contestants in the
Pig Olympics.
Thousands of locals have made their way to Hongkou District's Heping Park to watch some 20
pig athletes
from Thailand take part in sporting events over the past month.
The four-legged athletes battle it out in running, hurdles, jumping through a hoop, swimming and diving every day at 10am and 1pm.
About 1,500 people show up at the park every day to watch the games, most of whom are groups of primary students, said Yang Ying, office manager of the Bluesea Broadway Co Ltd, the event's organizer.
"These
lovely pigs
are of a special species that is good at sports by nature," she said. "They started receiving training soon after they were born and became professional athletes one year later."
Tan yizhou, an 8-year-old who hung the gold medal onto one of the champion porkers, said he would no longer take it for granted that all pigs are stupid and lazy.
"
It's incredible. I never thought that a pig could be so clever, dexterous and versatile
," he said. The games will run through May.
[technorati tags: athletic, pigs, olimpics, running pigs, stupid]